Our Louise-Marie authentic fireplaces come from the most beautiful castles and mansions. Our showroom always has a minimum stock of 80 of our most exquisite authentic fireplaces, part of our ever-ever-growing stock, with monthly new supply coming in.
We have personally purchased and/or disassembled our authentic fireplaces, on our numerous travels to the most beautiful locations, looking for the most fantastic examples. In various price ranges and styles, from Renaissance style to Louis XIII, Louis XIV, Régence, Louis XV and Louis XVI ... our ornamental fireplaces breathe the soul of their era. Depending on the nature of the restoration, the style, the material and the finish, our prices range from € 3.000 to € 13.000.
Did you know there are 166 old fireplaces in the Castle of Versailles? While in the past all open fireplaces were connected as one through -sometimes huge- smoke channels. Today our smoke channels (pipes through which smoke gases are discharged) are much smaller and our houses are more mechanically ventilated. Fireplaces are no longer the most important source of heat as, apart from aesthetics, we increasingly take into account the economy, ease of use, type of fuel supply, the frequency of use, efficiency and ecology.
The authentic style fireplaces are ideal for open fireplaces, wood fires or around a (closed) gas fire. Cosyflame is the only manufacturer in the world that offers custom made, closed fireplaces that fit virtually invisibly into your interior. They run on natural gas or propane and can be operated at the touch of a button. Snuggling together around the fireplace on cold winter evenings, with dancing flames that imitate a real wood fire, are possible once more.
Louise-Marie is a new player on the market, but one with decades of experience in the sector. Louise-Marie does not sell directly, but always through its various professional dealers, who have the necessary experience to guide you in the purchase and placement of your authentic fireplace. This way we always guarantee a correct installation.
Come and admire our gigantic and exclusive stock in the Cosyflame showrooms, where more than 30 gas fires burn, both in modern and classic style, often enhanced with tiles and shielded by invisible glass, and tailored to the ornamental fireplace.
All our fireplaces are neatly presented upright on a black background, which makes them stand out.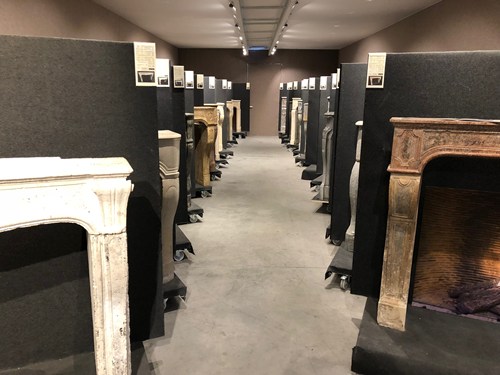 Our showrooms are located at Keistraat 127 in De Pinte, on the border with Sint Martens Latem, south of Ghent. Click here for the directions.
On Saturdays we are open from 9 am to 12 noon and from 2 to 6 pm, without an appointment. If you want to visit us on weekdays, please call us at 09 / 222.80.84.
Keep in mind it is best not to rush purchasing an authentic fireplace, it's a process that takes time. So if you find the Louise-Marie fireplace of your dreams, you better decide soon, before it's gone! Consider purchasing and storing your beautiful authentic fireplace, rather than settling for a fireplace that you're not fully happy with.
See you in our showrooms!